Step One:
From your dashboard page, click "Scheduling" and then "Competitions."
Step Two:
You will need to create a Competition first, which is the umbrella to group all of your events. Once in this tab, click "New Competition"
Step Three:
In the modal, you will name the Competition, select the Type (League, Tournament, Registration, etc.), select the Season, select the Grouping, and if needed, Report the Team Registrations to your state association or governing body. Click "Save" once you have input the info;
Step Four:
After you have created the Competition, click on the number next to your new competition under the column labeled Events.
Step Five:
From this page, click "New Event."
Step Six:
From the Event modal, fill in the required information:
Name- Name of the event.
Competition- If you were under the competition when selecting "New Event," then this will default to that competition. However, you can select which competition this event will be under.
Start Date & End Date- Duration of the event.
Seasonal Year- The seasonal year in which this event will be taking place.
Age Method- The age method you want to use whether it is "Calendar Year" or "School Year."
Website URL- You can enter your club's website here to be accessible.
Affiliation- Your sanctioned affiliation.
Pin- This is required when entering scores and misconduct reports from both the club admin and public pages.
Event Code- You can use this as an accounting code for billing purposes.
Merchant Profile- You are able to choose which merchant profile you will want applications from this event to be processed to.
Logo- Enter your club's logo.
Description- Brief description of this event that will appear on the application.
Welcome Message- This message will appear on the screen before the applicant can enter.
Payment Terms- The applicant will be required to agree to these terms before checking out.
Notification Emails- Every email listed here will receive all emails pertaining to this registration. To list multiple emails, simply separate them by a comma.
Confirmation Email Text- This is the message that will be sent to the applicant after they have completed the registration and checked out.
Address- Your basic location information.
Step Seven:
Once you have created the Event, click the event name to go to the Event overview and click "Application."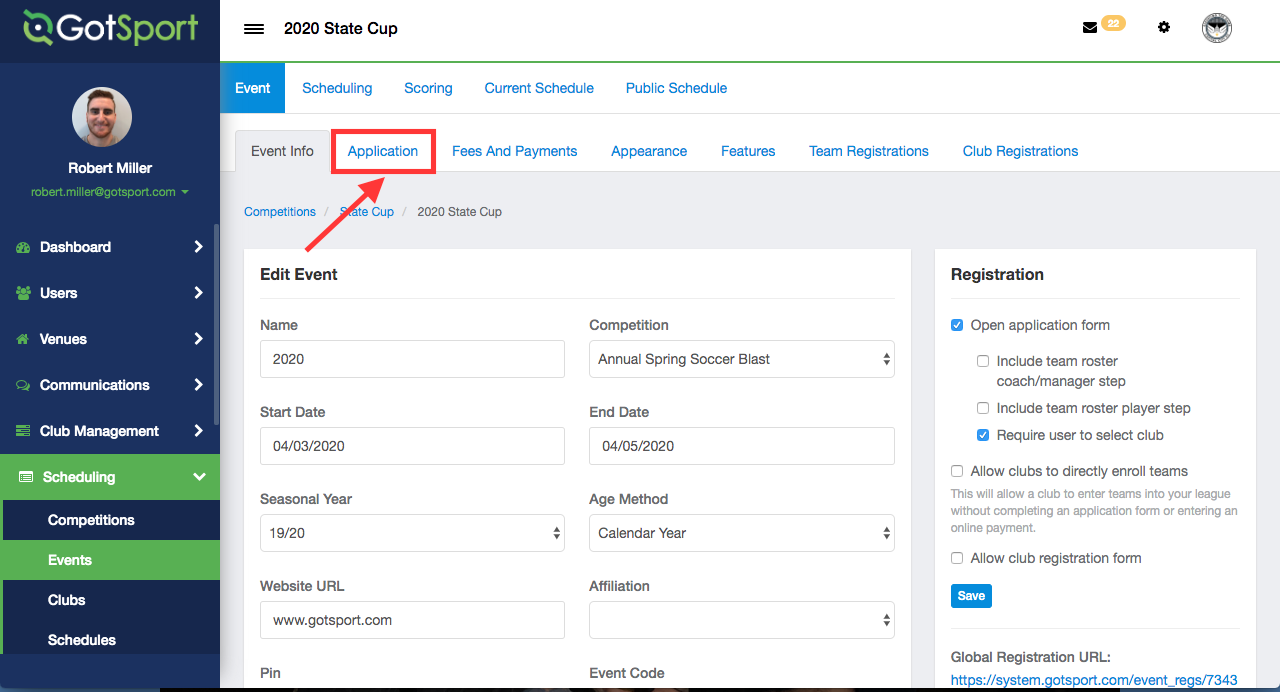 Step Eight:
From this page, click "New Form Element" to create your custom application questions;
Step Nine:
You can create different mediums in which to ask a multitude of questions (check boxes, check box, text input, file field, drop down list, etc.). Under Label you will ask the question and space the Available Values on separate lines (you will see a live preview to the right), once you are done, click "Save." As you create questions over time, they will appear under the "Quick Add" feature so you do not need to recreate the same questions.
Step Ten:
Click "Fees And Payments" to setup your fees. Only put pricing here if you want each individual team to have a payment method collected at the time of registration. If you plan to charge fees in bulk, to all clubs, you will not need to put your pricing in this area, it will go elsewhere.
Step Eleven:
Click "New Registration Fee"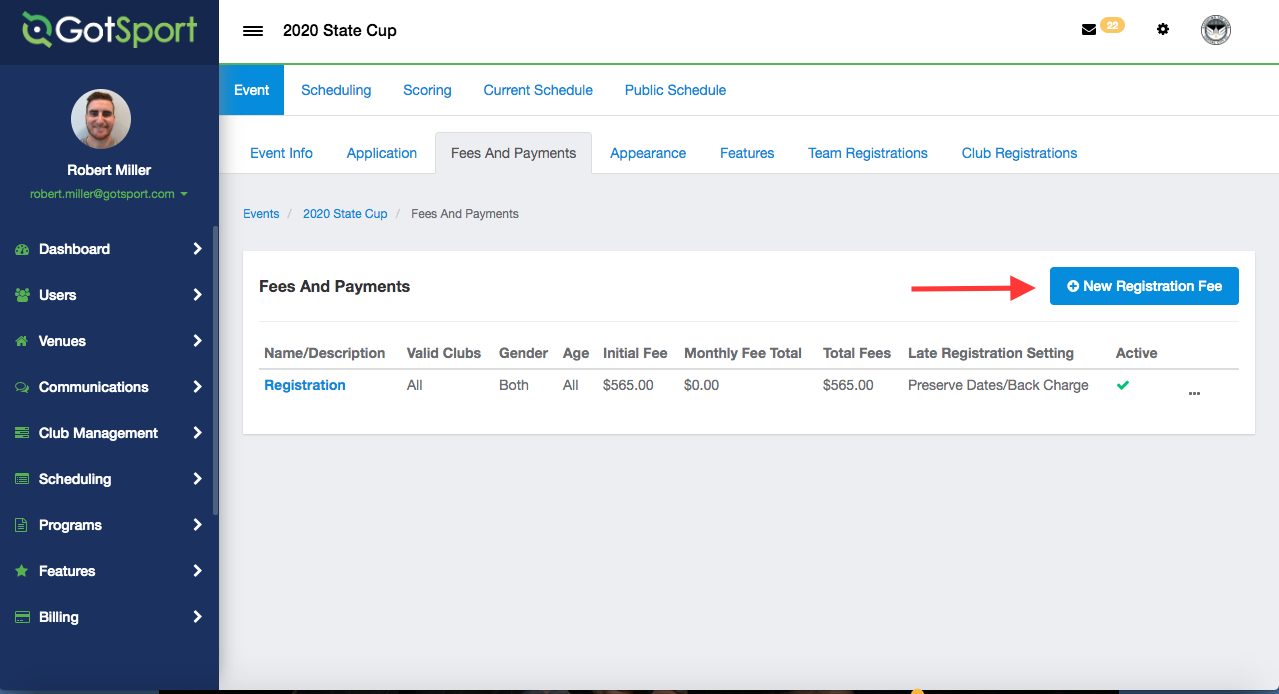 Step Twelve:
In the Registration Fee modal, you can name the fee, provide a brief description, specify the gender, teams and ages it is applicable to, input the initial fee, check off payment options, control whether it is active to be applicable, and finally you can add scheduled payments customizable to any amount on any dates. Note: if you want to charge clubs in bulk, you can put $0, but that you still need the ages to be set correctly, or at least set to "All" if you allow all ages.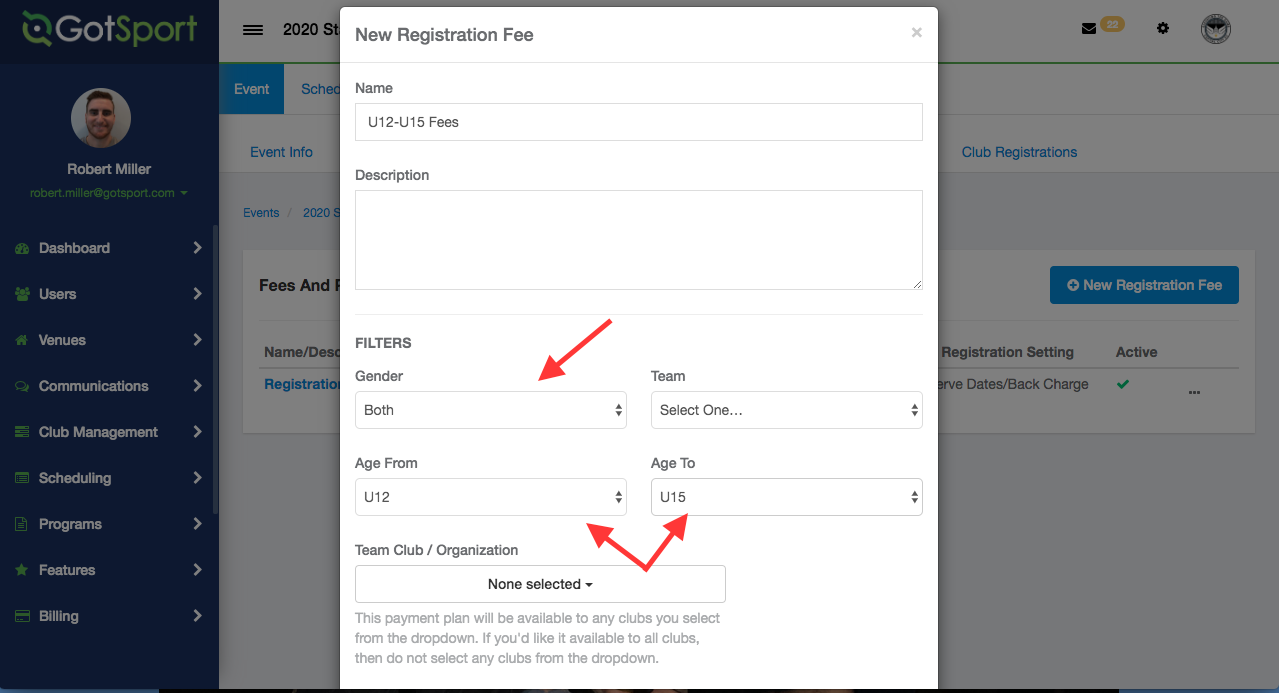 Step Thirteen:
You will then click the "Appearance" tab, from here, you can import a previously created template or can completely customize your event's public appearance page.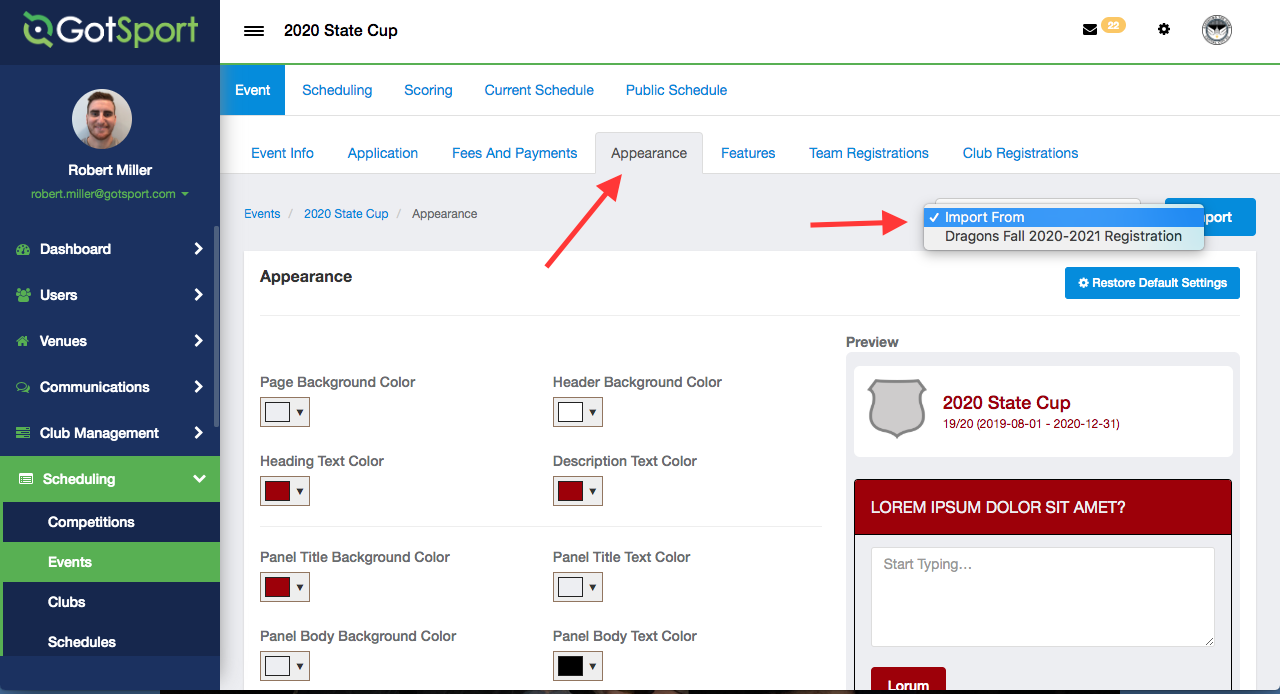 Step Fourteen:
Next would be to add Features, this is a way to collect additional fees or provide discounts, click "New Feature" to get started. Click here to see more information on features.
Step Fifteen:
You have now setup your application for this event, to open registration click "Event" in the top left to return to your "Event Info" page.
Step Sixteen:
To the right, you can select "Open registration Form" and "Allow Clubs to Directly Enroll Teams" if you have child clubs under your account so they can directly enroll teams without having to submit the full application. Click "Save" and the "Global Registration URL" will appear. This will be the link you will disseminate to your prospective registrants.