To create a form in your club (or state association) account, click on Forms tab and then Forms again just below it:
Click on New to create a new form (you can also copy a previous form):
In the top section of the form, give your form a Name and a brief Description and a Welcome Message if desired.
Type in email addresses for the Notification Emails, Emails to Notify Status Approved, and Emails to Notify Status Denied if there are any users that should be notified each time someone fills out the form. Separate email addresses with a comma if you have more than one.
*Note - to get a notification email, those email addresses must be tied to user accounts in the club). Then type in a start date and end date for the form:
Open - Opens the form and makes it available
Allow Direct Club Access - Gives clubs access to fill out the form for a user
Require Signature - Check this box if you want to gather an e-signature from everyone that fills out the form
If the form will require a payment, be sure to select your Merchant Profile and enter the fee associated with the form.
Available For - You can dictate who this form would be available forby checking box for the particular role with the club. (Players, Coaches, Managers, Etc.)
Select the Type of form. There are some specific form types like Transfers or Releases, or select Standard or Custom to create any other type of form.
* If you are setting up a state association form, you can select clubs within your association to also get a notification: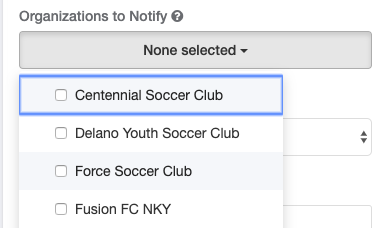 Agreement Text - Text for the agreement for which the user will be signing off
Printable Agreement Text - Fill in if different than the Agreement Text (this will be for the printable version of the form)
Confirmation Email - The text for the email that users will receive after they submit the form
Required - For state associations, marking this as required will activate the form for users fill out registrations for member clubs. The users will need to complete this form in order to complete the club's registration program(s).
Approved Email Text - Text in the email sent to users once their form has been approved
Denied Email Text - Text in the email sent to users if their form has been denied
Click "Save" to save the form.
What Next? Click Here to see the full 8 Step Process: https://gotsport.zendesk.com/hc/en-us/articles/360022257254-Creating-Registration-Program