Forgot your password? No problem! The below instructions will demonstrate how to reset your GotSport password.
Please note: A lot of times the reset email goes straight into a spam/junk email. And in rare occasions it could take up to 30 mins to receive the reset email.
Directions for Resetting Password in GotSport
Visit the homepage at https://system.gotsport.com/ and click the "Forgot Password" button.
Enter the email address associated with your account in the space provided, then click "Reset Password." Login instructions will be sent to the associated email address.

If your email is not recognized by the system, please reach out to your state administrators or club admin to find out which administrator can add you a user account

You will receive an email with a link to reset your password. Be sure to check Junk/Spam folders if it is not received quickly.
Type in your desired new password twice and click 'Update Password' and you will be taken back to the login screen where you can use your new password to log in.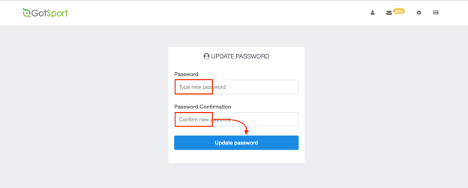 Tip: If you do not get the password reset email, that might be because the email you entered as the UserID/Email is not the same email the person used when setting up your GotSport account. Please double check with that person (or club/organization) which email they used as your UserID/Email for your new account.