Overview
Within an event, event admins can see any coaches conflicts in a schedule and have the ability to easily adjust for these.
Instructions
Note that this tool will only work correctly once you have generated matches and assigned dates/times/fields to those matches.
Coaches will also have to be put ion to the event roster by the teams for this tool to work properly.
1. From within your club account, click on the "Scheduling" Module and then "Events"
2. Click on the name of the event that you are working on
3. Click the "Current Schedule" button
4. The next page will default to the "Match Chart" view, but if you were working in the "Match List" view, you can click on the match chart button to access this view. From the chart view page, click on the "Coaching Conflicts" button
5. You will then see two drop downs appear after clicking this button. One says "Coach" and the other says "Alternate Coach"
6. Click on the "Coach" dropdown list and then you will see the coaches list and any ones that have a conflict will appear at the top of the list. In this case there are three coaches that have a conflict.
7. Select the coach who's conflicts you want to see first and when chosen, the system will highlight the matches that have a conflict. It will also highlight other matches for the coach that day to assist you with rescheduling so that you do not create a separate conflict by solving that one.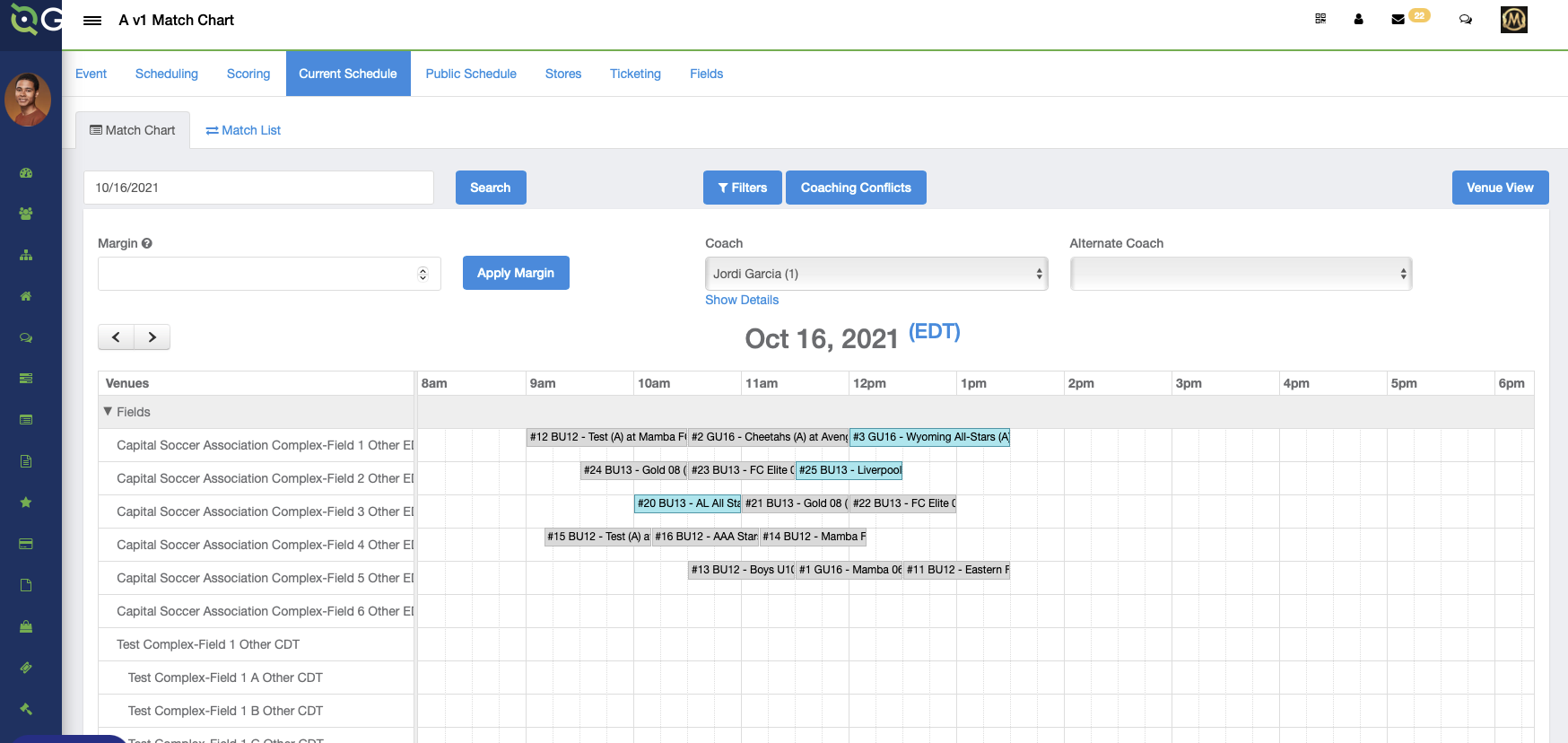 8. You can also click on the "show details" button and this will provide details on the conflict
9. The coach's conflic details will now show
10. To fix the conflict, you can click on one of the games that are conflicting and then drag it to another position in the schedule to reassign the time/field. If you are exchanging it with another game, you can drag the match over the new position on the schedule and then it will trade places with the other match.
11. In the event there is a team that is being coached by an "alternate" coach for any reason, you can also factor in the matches for that coach to avoid any conflicts in this case.
In this case, Kelsie Patterson is listed as an alternate coach, and it will highlight her matches as well so a conflict is not created by solving the existing conflict.
12. Now the conflicts are each resolved for this coach and the alternate